White Chocolate Moments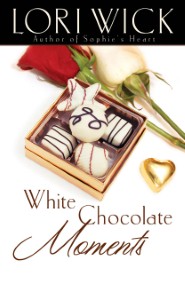 Harvest House Publishers
, 2007
Beloved author Lori Wick presents a new standalone in the tradition of her bestselling Sophie's Heart.
After losing her parents, Arcineh Bryant lives with her grandfather as a girl. But growing up without her family causes her to hold resentment toward the man who took her in. Years later, when she meets a man she thinks she may love, she doubts whether she can trust her own heart.
A character-rich journey leads Arcineh back to her grandfather's home where there are surprises, questions, and for the first time in her life, an answer to "who will love me forever?" This compelling story about a woman's hunger for acceptance and wholeness points the reader home to God's love.
Lori Wick is a multifaceted author of Christian fiction. As comfortable writing period stories as she is penning contemporary works, Lori's books vary widely in location and time period. Lori's faithful fans consistently put her series and standalone works on the bestseller lists. Lori and her husband, Bob, live with their swiftly growing family in the Midwest.