Leave a Candle Burning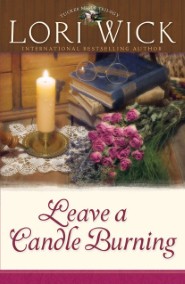 Harvest House Publishers
, 2006
Lori Wick's bestselling Tucker Mills trilogy concludes with Leave a Candle Burning. When the young, handsome Dannan Mackay comes to Tucker Mills to take over the practice of his uncle, Doc MacKay, he feels welcomed by the town, the church family, and his patients. Life seems complete.
It is only when Dannan has a chance encounter at the general store with a delightful woman that he thinks his life might be missing something. He allows himself to dream of love until he makes a startling discovery that changes everything. Dannan works to quiet his heart, he pours his energy into his patients.
Then the steady rhythm of his new life is interrupted. A young cousin has been orphaned, and Dannan offers his home to the child. This act of kindness turns his thoughts to the child's need for a mother—yet the one woman Dannan is drawn to cannot be his.
Lori Wick is a multifaceted author of Christian fiction. As comfortable writing period stories as she is penning contemporary works, Lori's books vary widely in location and time period. Lori's faithful fans consistently put her series and standalone works on the bestseller lists. Lori and her husband, Bob, live with their swiftly growing family in the Midwest.