Calvinism vs. Arminianism: The Bible Answers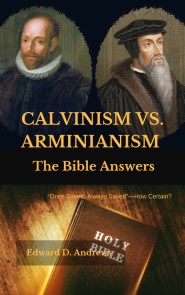 Christian Publishing House
, 2018
CALVINISM VS. ARMINIANISM goes back to the early seventeenth century with a Christian theological debate between the followers of John Calvin and Jacobus Arminius and continues today among some Protestants, particularly evangelicals. The debate is centered around soteriology, that is, the study of salvation, and includes disputes about total depravity, predestination, and atonement. While the debate has developed its Calvinist–Arminian form in the 17th century, the issues that are fundamental to the debate have been discussed in Christianity in some fashion since the days of Augustine of Hippo's disputes with the Pelagians in the fifth century. CALVINISM VS. ARMINIANISM is taking a different approach in that the issues will be discussed as The Bible Answers being that it is the centerpiece.
Product Details
Title : CALVINISM VS. ARMINIANISM: The Bible Answers
Author: Andrews, Edward D.
Publisher: Christian Publishing House
Publication Date: 2018
ISBN: 9781949586992
Reviews
What other people are saying about Calvinism vs. Arminianism: The Bible Answers.