Talk of the Town (Welcome to Daily, Texas Book #1)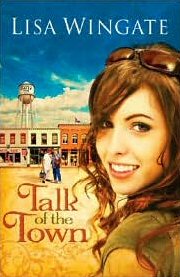 The show American Megastar is the hottest thing on television but its associate producer, Mandalay Florentino, is worried. She's just arrived in the tiny town of Daily, Texas, to arrange a surprise "reunion concert" for hometown finalist Amber Amberson. Only it turns out everyone in town seems to know the secret. And paparazzi are arriving. Word from Hollywood is that Amber has disappeared with a "bad boy" actor. Can anything go right in this tumbleweed town?
Imagene Doll loves her town of Daily, Texas, but things are lonely without her beloved husband. Life seems dull. At least until that fancy-dressed woman pulls into town, looking terrified and glamorous all at once. Soon life's not the least bit boring as Imagene and the rest of Daily find themselves at the center of a media maelstrom—with a young girl's future on the line.
Lisa Wingate is a popular inspirational speaker, magazine columnist, and national bestselling author of several books, including Tending Roses, A Month of Summer, and The Summer Kitchen. Lisa and her family live in central Texas.