Fleecing the Flock: Setting the People of God Free From the Lies of Tithing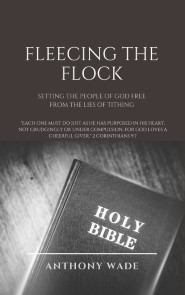 Christian Publishing House
, 2018
Evangelist Norman Robertson claims that "Tithing is God's way of financing His kingdom on the earth." He asserts that "It is His system of economics which enables the Gospel to be preached." Not bashful about telling his followers of their duty to give, he flatly states: 'Tithing isn't something you do because you can afford it. It is an act of obedience. Not tithing is a clear violation of God's commandments. It is embezzlement.' Most likely you accept that giving should be part of Christian worship. However, do you find continuous demanding appeals for money disturbing, perhaps even offensive? FLEECING THE FLOCK by Anthony Wade is an exhaustive examination of all of the popular tithing arguments made from the pulpit today. By applying the Bible to such teachings we can finally expose the bondage many preachers hold their congregants in and set the path forward into New Testament giving as God intended.
Product Details
Title : FLEECING THE FLOCK: Setting the People of God Free From the Lies of Tithing
Author: Wade, Anthony
Publisher: Christian Publishing House
Publication Date: 2018
ISBN: 9781945757969
Reviews
What other people are saying about Fleecing the Flock: Setting the People of God Free From the Lies of Tithing.