WHY ME? When Bad Things Happen to Good People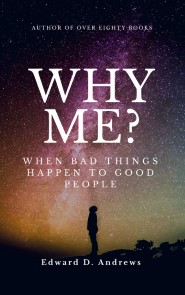 Christian Publishing House
, 2018
Herein Andrews will answer the "why." He will address whether God is responsible for the suffering we see. He will also delve into whether God's foreknowledge is compatible with our having free will. He will consider how we can objectively view Bible evidence, as he answers why an almighty, loving and just God would allow bad things to happen to good people. Will there ever be an end to the suffering? He will explain why life is so unfair and does God step in and solve our every problem because we are faithful? He will also discuss how the work of the Holy Spirit and the indwelling of the Holy Spirit should be understood in the light of wickedness. Lastly, Andrews will also offer biblical counsel on how we can cope when any tragedy strikes, as well as how we can avoid letting any lingering doubts destroy our faith, and how we can prevent our feelings from controlling us, as we overcome the anxieties of life.
Product Details
Title : WHY ME? When Bad Things Happen to Good People
Author: Andrews, Edward D.
Publisher: Christian Publishing House
Publication Date: 2018
ISBN: 9781945757952
Reviews
What other people are saying about WHY ME? When Bad Things Happen to Good People.