God's Love: How the Infinite God Cares for His Children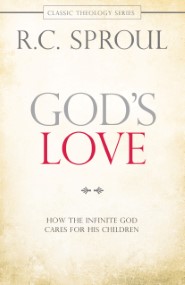 An in-depth look at a God who not only loves, but is love.
Love has come to mean many things. It's used to describe emotions. It's the glue for relationships. It frames countless stories.
And the greatest of these stories opens before time began and echoes throughout eternity. It's the story of God's unrelenting, overwhelming love for His people. Yet the truth of love is even more majestic, more staggering, and more extraordinary than we can understand: God doesn't just love us. He is love.
Renowned theologian and teacher Dr. R.C. Sproul takes a remarkable look at this most profound truth. God's Love delves deep into Scripture to explore this dynamic attribute of God, which finds its ultimate expression in His Son. Dr. Sproul also examines seeming paradoxes of God, such as a loving God and divine hate, and how love coexists with His sovereignty. Practical, insightful, and revolutionary, God's Love compels and calls us to reflect His nature of unconditional love.  
Product Details
Title : God's Love: How the Infinite God Cares for His Children
Author: Sproul, R. C.
Publisher: David C. Cook
Publication Date: 2012
ISBN: 9780781408523
About the Author
Dr. R. C. Sproul (1939–2017) was founder of Ligonier Ministries, an international Christian discipleship organization located near Orlando, FL. He was also founding pastor of Saint Andrew's Chapel in Sanford, FL, first president of Reformation Bible College, and executive editor of Tabletalk magazine. His radio program, Renewing Your Mind, is still broadcast daily on hundreds of radio stations around the world and can also be heard online. Dr. Sproul contributed dozens of articles to national evangelical publications, spoke at conferences, churches, colleges, and seminaries around the world and wrote more than one hundred books, including The Holiness of God, Chosen by God, and Everyone's a Theologian. He also served as general editor of the Reformation Study Bible.
 
Reviews
What other people are saying about God's Love: How the Infinite God Cares for His Children.