Your Comeback: Your Past Doesn't Have to Determine Your Future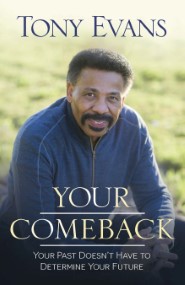 Harvest House Publishers
, 2018
God can turn things around for anyone—including you!
We've all experienced a time in life when it feels like the world is against us. Whether it's a financial setback, a breakup, or career that's gone off course, our first instinct is to give up and give in.
In that moment, you need a comeback. It can be hard to find solid ground in the most challenging of times—but take heart! God is the master of comebacks and orchestrated the greatest turnaround of all—through Jesus, the Savior who was crucified and came back from the grave.
Inside Your Comeback, you will find inspiration to turn your circumstances around as you learn about some of the most remarkable comeback stories of all time. You may have been knocked down, but you're not knocked out!
Product Details
Title : Your Comeback: Your Past Doesn't Have to Determine Your Future
Author: Evans, Tony
Publisher: Harvest House Publishers
Publication Date: 2018
ISBN: 9780736960656
About the Author
Dr. Tony Evans is founder and senior pastor of Oak Cliff Bible Fellowship in Dallas, founder and president of The Urban Alternative, chaplain of the NBA's Dallas Mavericks, and author of The Power of God's Names, Victory in Spiritual Warfare, and many other books. The first African American to earn a doctorate of theology from Dallas Theological Seminary, he has been named one of the 12 Most Effective Preachers in the English Speaking World by Baylor University. His radio broadcast, The Alternative with Dr. Tony Evans, can be heard on more than 1,200 US outlets daily and in more than 130 countries.

tonyevans.org
Reviews
What other people are saying about Your Comeback: Your Past Doesn't Have to Determine Your Future.