My Affliction for His Glory: Living Out Your Identity in Christ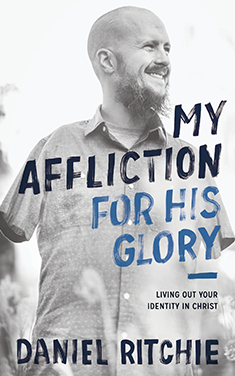 Fearfully and Wonderfully Made
Who am I? What am I here for? Does anyone love me? Do I have worth?
Adversity can cause us profound levels of doubt, especially when we compare ourselves to others. In the face of affliction and suffering, sometimes it's hard enough just to get through the day, let alone explore bigger topics like purpose, love, or faith.
Born without arms, Daniel Ritchie faced a unique kind of adversity. Yet after he surrendered his life to Christ, he learned that only in Christ could true worth and purpose be found—freeing him from comparisons and restrictions. He was able to live a full life that seemed impossible.
By entering into Daniel's story, you can learn to tackle life's challenges with grace and creativity—let him show you how to see your life through Christ's eyes.
Praise for My Affliction for His Glory
My Affliction for His Glory is a meaningful and stirring reflection on Christian faithfulness in the midst of life's trials. In it, Daniel Ritchie draws upon his experience of suffering to help us find our hope and Christ no matter how difficult the circumstances or deep the doubts. I enjoyed every moment of it and came away challenged in my walk with the Lord. Highly recommended.
—Bruce Riley Ashford, provost and professor of theology & culture, Southeastern Baptist Theological Seminary; author of Every Square Inch and One Nation under God
My Affliction for His Glory is a wonderful, easy-to-read, combination of biblical truth and biography. In these pages, you will find the gospel richly woven through the many inspiring, heartbreaking, and sometimes hilarious stories of Daniel's journey, in which he has learned to trust God and navigate life without arms. We are reminded that no matter what hand we have been dealt in life, that "our pain gives us a platform." And despite the numerous challenges, criticisms and opportunities to throw in the towel, Daniel's story is a platform which beautifully shows off the glory of Christ. No matter how difficult your life has been, you will be inspired and blessed by this book.
—Adam Ramsey, network director for Acts 29 Australia/New Zealand, lead pastor of Liberti Church
Though this book may help overcome life's obstacles, that isn't what it's about. Ritchie redeems the often short-sighted genre of Christian Living with a gospel-saturated biography that covers many areas of the Christian life compressed into a very concise and entertaining read.
—Timothy J. Trudeau, CEO of Syntax Creative; GRAMMY-nominated producer; guest writer for Desiring God, CCM Magazine, and Rapzilla
Contents
My Life Is His Story
Born with Purpose
Dependent on Him
Listening to the Right Words
My Pain Is a Gift
Born to Make Disciples
Born to Love and Be Loved
Love Like the Father
Born to Celebrate God's Grace
Product Details
Title: My Affliction for His Glory: Living Out Your Identity in Christ
Author: Daniel Ritchie
Publisher: Kirkdale Press
Publication Date: 2018
Pages: 128
Format: Logos Digital, Paperback
Trim Size: 5x8
ISBN: 9781683590828
About Daniel Ritchie
Daniel Ritchie is a speaker and writer from Huntersville, North Carolina, who has contributed to such publications as Desiring God and For the Church. He has 10 years of experience in student ministry and a bachelor of arts in biblical studies and the history of ideas from the College at Southeastern. He and his wife, Heather, have two children.
Reviews
What other people are saying about My Affliction for His Glory: Living Out Your Identity in Christ.