The Spirit of Revival: Discovering the Wisdom of Jonathan Edwards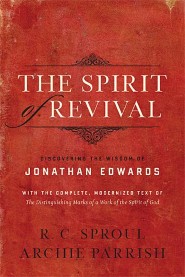 America is gripped in an ongoing war that has divided our nation over issues of sexual morality, the relation between church and state, the collapse of the family unit, the emergence of a drug culture, and a radical change in the customs of polite speech. Because of this cultural war, America desperately needs revival.
In The Spirit of Revival R.C. Sproul and Archie Parrish take the classic work by Jonathan Edwards, The Distinguishing Marks of a Work of the Spirit of God, and make it more accessible to the common reader. Edwards' original discourse is carefully broken down into powerful sections, allowing theologians and the common lay worker the opportunity to recognize the true marks of revival: love and humility.