A Life of Obedience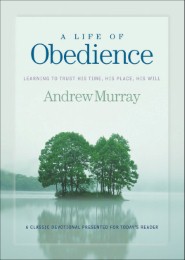 Bethany House Publishers
, 2004
Andrew Murray traces obedience through the Bible, from Genesis to the ?nal chapter of Revelation, in a warm, inspirational devotional study. It looks at the issue of obedience in the lives of Bible characters and focuses the reader's attention on the obedience of Christ. Practical as well as inspiring, A Life of Obedience speaks to today's reader as clearly as it did to his audience a century ago.
Product Details
Title : A Life of Obedience
Author: Murray, Andrew
Publisher: Baker Publishing Group
Publication Date: 2004
ISBN: 9781441210371
About the Author
Andrew Murray was born in South Africa in 1828. After receiving his education in Scotland and Holland, he returned to South Africa and spent many years there as both pastor and missionary. He is best known for his many devotional books, including Believing Prayer, Humility, Absolute Surrender, and Abiding in Christ.
Reviews
What other people are saying about A Life of Obedience.