Winning the Clutter War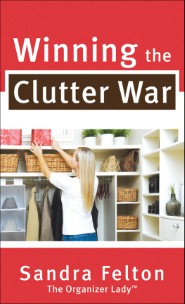 Are you tired of fighting an avalanche every time you open a closet or cabinet door?
Do you avoid answering your phone because you can never find it?
Don't despair! Even if you've been a messy person since childhood, organizing expert Sandra Felton's practical advice will make your dreams of an orderly lifestyle become reality. Hundreds of thousands of readers have already benefited from her strategies. In Winning the Clutter War, Sandra helps you keep your house clean pay bills on time organize your activities enjoy your spare time without feeling guilty and more.
Sandra Felton, The Organizer Lady™, is the founder of Messies Anonymous, a group established to help women organize their households. She is the bestselling author of several books, including Living Organized and Smart Organizing. She lives in Florida.