Abba's Whisper: Listening for the Voice of God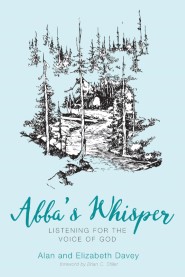 There is a longstanding tradition that God whispers in our ears. He does not shout. It is in "the holy whisper," writes the Quaker mystic, that we hear Abba's voice, not in the noise of clamoring crowds or the incessant barrage of social media. To hear the voice of God is an awesome thing--to know his thoughts, to intuit his love, to participate in his good pleasure. It is both a gift to be received and art to be cultivated. It can call to us when we least expect; but we can train ourselves to become receptive listeners.
We need help to separate the cacophony of voices calling to us from the quiet whisper of Abba--barely audible. Since our wordy world masks the quiet, respectful voice of God, we need to recognize the primary ways that Abba communicates with his creation. We must embrace practices that move us out of lives of distraction and exchange old patterns of living with new ways of seeing and hearing. From our deep Christian past we hear the voice of St. Augustine murmur, "Whisper in my heart, I am here to save you. I shall hear your voice and make haste to clasp you to myself."
Reviews
What other people are saying about Abba's Whisper: Listening for the Voice of God.