Five Minutes in the Bible for Women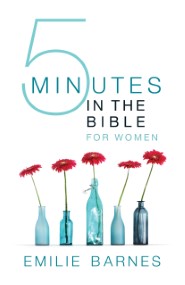 Harvest House Publishers
, 2015
Bestselling author Emilie Barnes serves up spiritual refreshment in this inspiring devotional for women on the go. When your days feel scattered or the needs of your heart are great, her brief meditations will encourage you to
experience God's Word in personal ways
fill your spirit with reminders of God's faithfulness
enter God's comforting presence through prayer
turn your mind toward His real-life wisdom
rest in the promises and love God has for you
From Emilie's heart to yours, each devotion will help you embrace—and be changed by—the hope, purpose, and joy God desires for your life this very minute.
Product Details
Title : Five Minutes in the Bible for Women
Author: Barnes, Emilie
Publisher: Harvest House Publishers
Publication Date: 2015
ISBN: 9780736961431
About the Author
Emilie Barnes is the author of 70 books, including 101 Ways to Clean Out the Clutter; Heal My Heart, Lord; and 15 Minutes Alone with God. Emilie and her husband, Bob, are also the founders of More Hours in My Day time-management seminars.
Reviews
What other people are saying about Five Minutes in the Bible for Women.