Then Sings My Soul Special Edition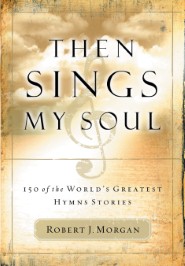 Stories of the most favorite and beloved seasonal hymns of faith.
Don't look for a dry recounting of boring historical fact, the devotional-style stories in Then Sings My Soul show the emotion and drama behind the hymns of faith that have changed many lives throughout history. Designed to be personally reflective, these stories speak to the soul and add depth to a meaningful worship time with God through song.
Recounted are stories of the people whose faith led them to write these wonderful seasonal hymns and the people whose faith was affected by reading, hearing, and singing the songs.
Includes words and music to each hymn
Special, softcover, French flap cover design
Ivory paper with brown ink
Jagged edged paper, giving it a classic feel
Complete with hymn index
Use for devotionals, teaching illustrations, introductory remarks for song leaders and music ministers
Product Details
Title : Then Sings My Soul Special Edition
Author: Morgan, Robert
Publisher: Thomas Nelson
Publication Date: 2010
ISBN: 9781418578244
Reviews
What other people are saying about Then Sings My Soul Special Edition.