The Mark of Salvation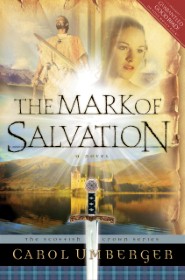 What do you do when your captor becomes more than a friend?. . . When asking for help means risking a man's very life?. . . When love simply cannot happen—and you know it already has?
Countess Orelia Radbourne came north with her husband, expecting to claim a new estate once the English army trounced the rebel Scots. But her beloved is now dead, the Scots have won the day, and she is at the enemy's mercy, guarded by a scowling soldier named Ceallach—a haunted and hunted man whose emotional scars are even worse than his physical ones. Yet he is also loyal and patient, and his steadiness soothes Orelia's grief in ways she never expected.
Almost against their wills they forge a bond, though a long-ago vow forbids their love. Besides, her future is in England . . . and Orelia must return home to claim an inheritance. Ceallach promises to come if she ever needs him, though she knows she will never ask. But when the countess realizes her greedy in-laws will stop at nothing—even murder—to keep the inheritance from being passed on, she realizes she has only one place to turn.